Are you ready to go on your first travel adventure with your baby? Before you zip your bag, read these 7 Essential Tips for Traveling on a Plane with Your Baby. You and your baby will enjoy more and stress less.
Traveling with your baby is thrilling. It adds such a sparkle to your travel experience. Not only will you enjoy all the new sites and sounds, but you will also delight in watching your baby experience it all too.
What we'll cover:
Tip #1: Airline Accommodations
Tip #2: Your Baby Bag
Tip #3: Food

Tip #4: Cleaning Products
Tip #5: Entertainment
Tip #6: Important Documents
Tip #7: Mind/Body/Spirit
Your baby is a mini celebrity!
When it comes to travel, babies get the royal treatment.  Doors are held open, people smile, and you get to zip to the front of the security lines.
Chances are you will receive special treatment once you're on the plane too. The flight staff will make sure you're comfortable, especially on long, international flights.
Baby Plane Travel Tip #1: Airline Accommodations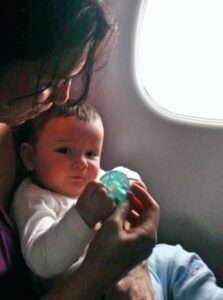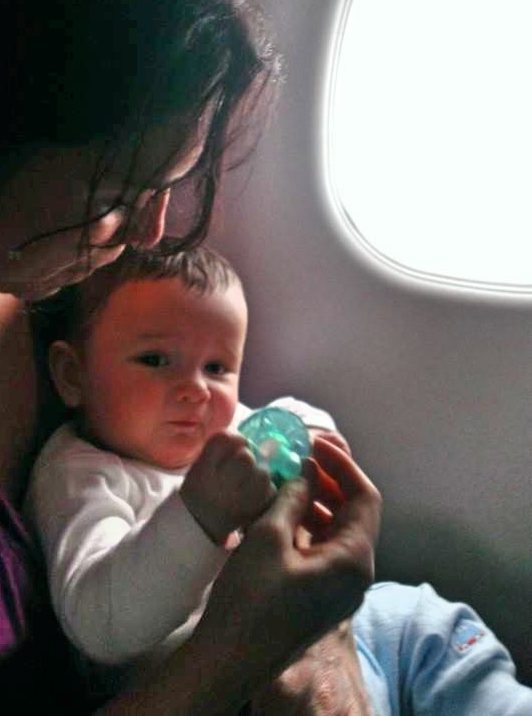 Ask the flight staff if they have cribs.
Yes, cribs! Most large, international planes have cribs. They attach and suspend from the wall.
The crib was so helpful because our baby took a nice long nap and slept soundly and undisturbed (not bumped by anything or anyone) and gave us a chance to relax and even watch a movie.
We flew with Iberia Airlines to Spain and the staff, food, and airplanes, in general, were excellent. They made our baby's comfort a priority and even moved some other passengers around to give us special seats with more leg space. (Extra space for your baby bag and more room if your baby wants to stand, crawl and move a bit.)
In short, don't be afraid to ask airline staff for better seats, cribs, and whatever else you may need to ensure your baby's comfort. In my experience, they are happy to do it.



Baby Plane Travel Tip #2:
Your Baby Bag:
INSIDE YOUR BABY TRAVEL BAG
Helpful Tip:
Backpacks or weekend bags works just as well as a diaper bag for a fraction of the cost.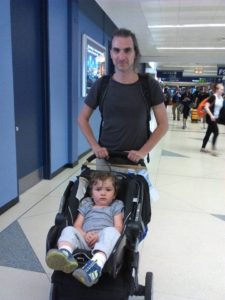 DIAPERS
Come diaper-prepared for every possibility you can think of. You don't want to be running through an airport looking for diapers. They're not that easy to find and chances are, what the kiosks carry won't be in your baby's size. Bring extra.
CLOTHES
What should your baby wear? Your baby's comfort is priority. Dress your baby in a comfortable short-sleeve onesie they've worn before with a long sleeve shirt over that, leggings or sweatpants and socks. Shorts or dresses may leave them feeling cold and exposing their bare skin to dirty seats and crumbs.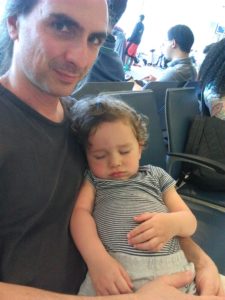 Clothes to bring in your bag: (In case they get sick, pee or poop, or they spill water or food on themselves.)
One change of baby clothes for short flights of 2-5 hours.
Two sets of clothes for longer trips 5+ hours or longer.

A change of clothes consists of:
1 short sleeve shirt
1 long sleeve shirt
1 Pair of soft pants or leggings
1 pair of socks
1-2 Bibs. (There are soft, plastic kinds that wash and dry quickly and roll up into a tiny ball).
In Addition:
2  Swaddling Blankets.
One to use as a blanket, pillow &/or breastfeeding cover;
one to lay down on the floor if baby decides they want to stand, crawl and play on the floor. Yes, they may want to.
1 smaller but sturdier cloth. This could be a changing pad or a large hand towel. You will be changing them in many random bathrooms.
1 extra shirt for mom and 1 extra shirt for dad. Chances are one of you will get wet and/or dirty. Bring one, trust me, they will come in handy. Who wants to be stuck on a 12-hour flight with a wet, dirty (and possibly stinky!) shirt?
A lightweight foldable bag inside your travel bag. Can be used for many purposes, including stuffing leftover jackets, hats, toys, and other gear in there, rather than trying to hold everything in your arms and losing/dropping something along the way.  Also, helpful if you can't fit anything more in your carry-on!
Baby Plane Travel Tip #3: Food
Food Ideas:
Yogurt
Veggie purees
Baby cookies
Baby veggie straws (such as Puffs.)
Bottle or two of their milk of choice. (Check your airline for the amount of breast milk permitted.)
Sippy cup
Ziplock baggies for wet bibs, leftovers, etc.

Usually, you will be stopped and your milk (and food) will be inspected at the security checkpoints. This is normal procedure and they will usually let it pass. You can always purchase milk once past airport security.
Helpful Tip:
Have something ready for baby to drink during takeoff and landing for when their ears pop. This uncomfortable feeling may scare them and cause them to start crying. A little bottle of milk will help avoid this.
Baby Plane Travel Tip #4: Cleaning Products
Wipes – to clean their little hands, bodies and give them an overall wipe down if things get really messy.
Disinfectant Wipes  – To clean off seats and tray tables, to wipe down changing tables and bathroom areas and also high chairs at airport food courts – and many other reasons! Seventh Generation makes disinfectant wipes using plant-based solutions and not harsh chemicals. You can also find lots of DIY recipes to make your own disinfectant wipes using essential oils.
Travel size hand sanitizer – for yourself, after diaper changes, etc., and to clean everyone's hands in general.
A disposable plastic bag or two rolled up into a little ball – to contain wet/dirty clothes, food, and dirty diapers.
Baby Plane Travel Tip #5: Entertainment
1-2 picture books (light, bendy ones are more travel-friendly. Bonus if they have stickers! The dollar store has some great activity/sticker/coloring books.)
1-2 new, little toys they can fidget with (but don't bring any that have sound). I say "new" because it will hold their attention longer.
Playdoh
A plastic ziplock bag with 2-3 markers, 2-3 crayons, and 1-2 torn out coloring pages (less weight instead of bringing the whole coloring book). This little ziplock bag can live in your purse and you can pull it out whenever you're at a restaurant, cafe or waiting somewhere.
Baby Plane Travel Tip #6: Important Documents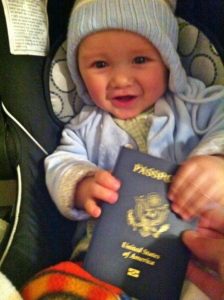 1. Baby ID
2. A copy of baby's birth certificate (For security purposes, they can ask you for it and you must provide it.)
3.  A photocopy of everyone's passports and driver's license. Take pictures and email them to yourself. (This is a good travel tip in case your bags and ID's get lost or stolen).
Baby Plane Travel Tip #7: Mind/Body/Spirit
A Positive Mindset
You've prepared well. You have everything you need to care for your baby, yourself, and the rest of your family. That alone should help you feel more relaxed about this whole thing. But if you're still feeling a little nervous, an international friend who often takes her young child back to her home country to visit the grandparents had this to say about 10+ hours on a plane:
"If I switch from "Oh no, it's going to be a rough day" to "I'm spending a day with my child but instead of the children's museum we are trying something new," then it turns into more of an adventure. Meltdowns can still happen of course!"
Make your trip a stress-less adventure. Enjoy the journey. Enjoy the laughs, your baby's smiles, and the smiles he will surely receive from so many along the way!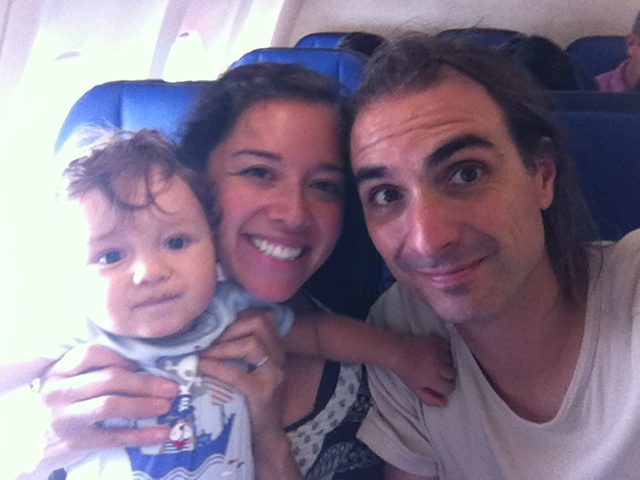 Got any travel tips for traveling with your baby? Please share them in the comments below!
Safe and Happy Travels!
Karina