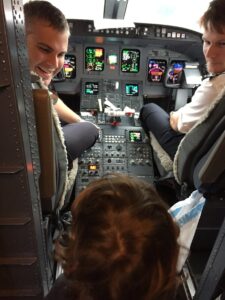 Are you ready to go on a travel adventure with your toddler? I love traveling with my son. He makes me see things from a whole new perspective. I love watching him get excited and roll out a big "WOW"! I'm pretty sure you'll also be delighted seeing your child react to new places, people, and food. The best recommendation I can give to a parent taking their toddler on a travel adventure is PREPARE.
Here are a few things I recommend bringing and thinking about to help ensure a happy, comfortable and stress-less travel experience for ALL:
Headphones

Toddlers have short attention spans but give them a screen and they are glued. Get the headphones that hang on their ears because the little earbuds the airline provides won't stay in and they (and you) will be fussing with them the entire time. Ugh! Instead, get toddler headphones. You can find them on Amazon for under $20. I've also seen them at stores like "Five Below". I got mine at the dollar store for $1. They are not made for toddlers, but they worked fine on my son. Before I put them on him, I listened to make sure the sound was right for his little ears.


Play-doh

Another dollar store item. Just a small container will do. It will entertain them for a little while. I carry a little container of play-doh in my son's bag. It's handy to pull out at a cafe or restaurant or anytime they get antsy.

Books

To read and play with. Small, bendy books are great because they are lightweight and don't take up a lot of space. It's even better if the books come with stickers. This will give them something more to do! A friend gave us this book before our travels and my son loved it! You can also find some wonderful activity/sticker books at the dollar store.

Crayons and/or Markers

Don't bring the whole box. A little ziplock bag with 3-5 crayons and 2 markers will be plenty.

Coloring Pages

(Tear out 3-5 pages – you don't need to bring the entire coloring book. It takes up space and they only need a few pages to keep them entertained for a while).

Snacks

Sandwiches: I often bring 2-3 sandwiches wrapped in aluminum foil and cut into triangles. We (my husband, son or I) will grab a triangle every now and then. The sandwiches always sell-out! Go for a simple sandwich – and toast the bread if you have an extra minute. If not, don't worry, they still hold up. Try a sandwich with some turkey and cheese and a little mayo or butter so it's not too dry. I'd stay away from lettuce and tomato or other dressings that might release liquid and make the bread soggy.
Mandarins
Fruit chews or roll ups (they come in individual packets so you can dole them out accordingly.)
Healthy-ish cookies (My son doesn't like granola bars, but this would be a good choice).
Yogurt
chocolate or yogurt covered pretzels (you will eat these snacks, too!)
1-2 milk boxes. (My son really likes milk so we always carry 1-2 boxes with us). (Note: you might get "pulled over" at the security lines for this. They usually run it through their machines or do a swab test on it and its usually not a problem.)

Water Bottle with cap or a Sippy Cup

This one is important so I'm giving it it's own number. "I'm thirsty!" they will whine. The flight crew will give you a flimsy plastic cup and your toddler will undoubtedly spill on themselves and on you. Avoid that by bringing your own sippy cup or water bottle.

Clothes

1 or 2 changes of clothes for child. (I would say this depends on how long your flights are):
one short-sleeve shirt, one long-sleeve shirt, sweatpants, 2 extra pairs of underwear, a pair of socks, a light jacket (if applicable to where you're going).
I like to put sweatpants or soft pants on them (as opposed to shorts, jeans or skirts) so they are as comfortable as possible on the plane. I don't want their skin touching the seats (dirty) and seat fabric may end up rubbing them – also crumbs! I bring an extra long-sleeve AND a short sleeve shirt, in case what they are wearing gets dirty and/or wet, they can put on the appropriate shirt (if the plane is hot or cold). And if it's very chilly, the long sleeve over the short sleeve.

Also, a change of shirt for you (and for Dad): pack a clean shirt in your bag for you and Daddy in case something spills on you (food, drink, vomit). I've had all three land on me!

Wipes – to clean your child, yourself and the tray table.
Cell Phone or Tablet to play games on and watch cartoons/movies. Check in advance if your airline has its own app to watch movies on. On long, international flights, each seat usually has a screen. But on shorter flights or connecting flights, they may not have screens but most airlines will have an app you can download and watch movies for free on your device.
Something else I like to always carry with me is a reusable plastic bag. I always have one or two in my bag rolled up into a little ball. You can purchase colorful and inexpensive ones that you can use throughout your trip, (Ikea has some good ones). These are great to have in case clothes get wet or dirty, you can stick them in this bag and keep them contained. Keep a regular plastic bag from a store too, in case you have a poopy diaper that needs to be disposed of.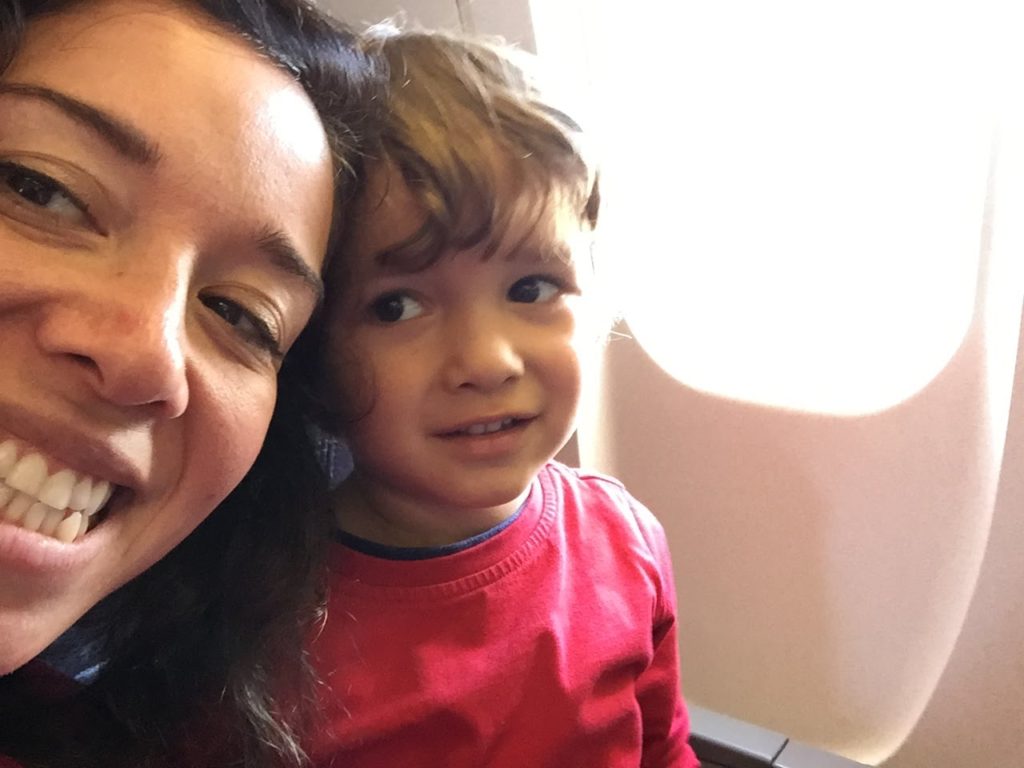 Snacks – a hungry child is an angry child
1-2 new, little toys
Plastic bags for messes
disinfecting wipes
Change of clothes for child
Change of shirt for mom and dad
Blanket
iPad
External charger
toddler headphones
wipes
Coloring Books
puzzles
A bag of toys that are only for tripes. Things that travel easily like electronic toys (i like the fisher price laptopa and a travel keypboard)
Interactive books, (like lift the flap and mazes)
Positive Mindset. If I switch from "Oh no, I am going to have a tough day" to "I am spending a day with my child but instead of children's museum we are trying something new" thin it turns more into an adventure. Meltdowns can still happen of course!)
So we'd look at the stuff outside and talk about which vehicle does what
Go to Starbucks and each gt a latte (you can ask for frothed warm milk in a real deal cup)
Go to tax-free and smell perfume and choose a favorite one
Ride an escalator
Child has their own backpack and they choose what goes inside.
Coloring stuff
Playdoh
But something open ended too, like pom poms
a cup of beads
pipe cleaners
puffs, raisins (individually wrapped in aluminum foil, lots of work beforehand but can keep them busy.
Cubes from Amazon and dollar store velcro
They can lose as many as they want. Have a similar set with craft sticks and velcro
If velcro falls off, you can write something on them or draw a game (different acticity on each side) and roll like a dice.
Wicki stix are waxed strings you can shape as letters or objects.
For car travel:
CD, Spotify, youtube
spot a red car/flag/bridge
Print free pages on the topic (airplane, seashells, etc.)
Use various media for a topic (eg the nutcracker) audiobook, book, cartoon, ballets on Youtube, coloring pages and tiny things I bought around the topic. When she understands the topic, she perceives new media better eg she saw the ballet and now I can just leave her with a black and white nutcracker coloring book and she is happy.
One time i was quite desperate and tired with Ulina on the plan. I just barged into the kitchen with her and let her watch what the stewards do there.
When very agitated, going to see what the airline attendants are doing. They're normally very friendly.
Take something to drink for takeoff and landing that they will wanna drink (apple juice) or chew (gummy bears, chocolate) for when ears pop.
Baby id/copy of birth certificate.
They can acutally ask for it and you must provide it.
https://lifeovercs.com  website for printables
Lollipops make wonders in travel by I guess naturally soothing kids and they are busy for the whole time they eat it.
Target dollar section (felt play)
Water Wow books
Books with activites like search and find
Stickers (good books at dollar store)
Crayons (carry a little ziplock bag in your purse and collect the ones the restaurants give out)
Airline TV
Matching game
Change of clothes for child x 3/4 (esp if child regurgitates often)
Extra shir for parents
Lots of bibs. Bring them in suticase and carry on.
Sippy cup/water bottle to easily drink out of without a mess
Wipes
Extra Diapers
Swaddle blanket – use a a cover to breast feed, blanket
Baby carrier like Ergo (Affiliate)
Always wear socks with shoes.
TOddler: An umbrella stroller can be handy, add yoga mat straps on either end of it and carry it on your back.
empty ziploc bags in case (dirty diapers, wet bib, res of food to take from restaurant to plane)
Buy a snack like mini pretzels and use ziplocs to portion it rather than carry the whole bag around
Mini emergency kit: neosporin, band aids, tylenol, toilet seat covers!
I also have a lightweight foldable bag in my bag – use it to stuff jackets etc rather to make one large carryon vs try not to lose multiple items
Take all my memberships and try to use reciprocity programs.
Baby buddy 2 piece secure a toy safety strap
https://www.amazon.com/dp/bo1mtmooiy/
https://www.amazon.com/dp/bo71zngvvy/ref=cm_sw
Full set of clothes for kids in a bag in a car (socks, tights, trousers, one diaper, etc) – everything in a size one too big so you don't immediately need it everyday.

Ideas for when on a plane
Kids have a lot of clothes but usually just a couple of pairs of shoes. Put a cloth name tag stickers with your phone writtein on it inside your kids shoes (use laundry marker shparte that doesn't wash off) Then teach your kid to show the inside of the shoe when they are loos – boom!
No need to rely on them to remember any names or phone numbers.
Otherwise, there are TravelID wristbands that you can put on them when you go into crowds or travel.
Travel ID BAnds https://www.amazon.com/dp/b004tAdo3W
Luggage Tags
RoadID authentic bands