Hello Fabulous Friends! I have just the recipe to warm your belly and feed your family. I've made this sweet potato stew recipe a hundred times, in a hundred different ways. It's so versatile, you'll see how! This is one of my go-to recipes and it's on the weekly menu rotation list at my house. It's so easy to make, tastes delicious, and it's healthy, too. It's perfect for those chilly months, but really, it's good all year 'round. I've made this in the middle of summer, and it works.
I originally discovered this recipe in the February 2018 Family Circle magazine called Turkey and White Yam Chili.  I have made this chili/stew so many times since, with different ingredients, that I have basically altered it completely.
The original recipe is spicy and hot. My young son doesn't like spicy, so I don't add any spicy ingredients. That said, I like spicy food, but even without the spicy ingredients, this tastes delicious. It doesn't need the spicy to taste good. What makes this stew taste so yummy are all the other (non-spicy) spices that go into it: nutmeg, cinnamon, paprika, etc. If you don't normally use a lot of different spices in your cooking, this is a great recipe to test out new spices. You can sometimes buy little bags of the spices from the bulk spice section at some supermarkets. That way you are not spending so much money and still testing out new flavors.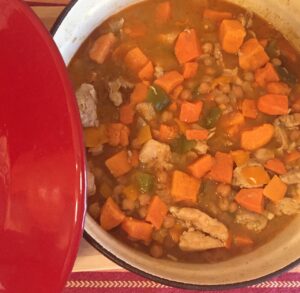 The original recipe uses ground turkey. I've made this recipe using ground turkey and it tastes good. But several times I've used chopped chicken breast because that's what I had, and it tasted delicious! I've also made this recipe with shredded chicken made in the crockpot. (I was going to make enchiladas but ended up not having all the ingredients, so just made this stew using the shredded chicken, and THAT tasted amazing too.) The stew works in so many ways.
I have also used ground beef in this recipe. The beef makes it taste rich and hearty. Use whichever protein you like best and/or have in your fridge! Turkey, chicken, and beef all taste great. And it would probably taste good with just veggies alone. I haven't tried this recipe with just veggies, fish, or tofu. Let me know if you try any new variations!
The original recipe uses 1 can (6 oz) of pinto beans.
My family eats a lot of garbanzo beans (chickpeas). One time I didn't have any pinto beans, but I did have garbanzo beans, so I used a can of garbanzo beans instead. And you know what? It tasted even better! Now we always use garbanzo beans. I use two cans instead of just one. Makes a bigger pot! (This freezes well too).
One time I didn't have any beans at all so I didn't add any and it STILL tasted great.
In lieu of not having beans, I decided to cut up some green and red peppers that I had in the fridge. This tasted yummy, so now I always add peppers to the stew.
The original recipe calls for only 1 large yam or sweet potato. I use 4-5 sweet potato. I want to make a big pot that will last several meals. My husband and son take some for lunch or we may eat it again for dinner the next day.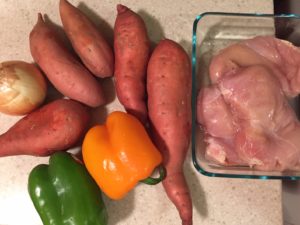 Here is my recipe:
1 lb ground turkey, beef, or chicken. (I've used chopped/cubed chicken breast or shredded chicken).
2 tbsp olive oil
1 large yellow onion, diced
1 green and red or orange pepper, diced (optional)
5 cloves garlic, smashed and chopped (optional)
2 1/2 tsp salt
2 tsp ground cumin
1 tsp garlic powder
1 tsp smoked paprika
1/4 tsp ground cinnamon
1/4 tsp ground nutmeg
1 tsp ground black pepper
1 or 2 cans (15.5 oz) garbanzo beans drained and rinsed
4 cups unsalted chicken stock or water (I never buy chicken stock. I've always used water and it tastes fine).
1 tbsp brown sugar
4-5 sweet potatoes, peeled and cubed
In a large Dutch oven, brown your turkey or chicken in the olive oil. If you are using ground beef, no oil is necessary. Heat over medium-high, about 5 minutes. Remove with a slotted spoon. Lower heat slightly; add onion, garlic and 1/2 tsp salt. Cook about 3 minutes. Add spices and toast, stirring, about 1 minute.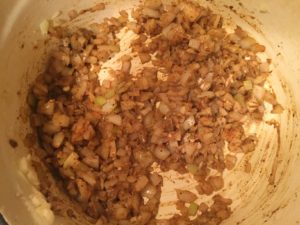 Return your protein to the pot, add beans, chicken stock or water, sugar, and 2 tsp salt.
Bring to a simmer.
Once simmering, add the sweet potato.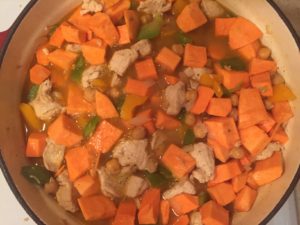 Cover and cook at a low-medium simmer for about 40 minutes. Check sweet potatoes periodically; you want them to crush easily under pressure but not completely dissolve into the chili. Serve warm. You can also sprinkle a little bit of cheese on top. I usually don't but I have if my son asks for some. It gave it a slightly different flavor, but still very delicious.
Enjoy! Let me know if you try it and how you made it!