Question! What do you do when you want to organize your paperwork and files but don't want to spend lots of money on for a  fancy file cabinet? You get creative and give an old file cabinet a make-over!
This post may contain affiliate links. Please read my disclosure For more info.
A file cabinet is a wonderful tool and piece of furniture that will help you in every aspect of your home and home business organizing. You will know where that piece of paper is when you need it! But you don't have to spend $50-$300 for a new file cabinet.
GET A USED FILE CABINET
If you already have a file cabinet, great. If not, search garage sales, craigslist, and church garage sales. (As always, start by visualizing: You snagging that file cabinet!) I went to a local church garage sale, and there it was, for $6!!!!!  I was thrilled (and a little surprised. I believe in the Law of Attraction but when it happens so instantly, I still can't help feeling amazed each time.) The file cabinet was in really good condition. No rust, no dents and it came with all the rods inside to hang the files. (If rods are missing, you can purchase rods on Amazon for $10:  OfficeMax Metal File Frame, Legal Size, 2/Box
).
Here is the before.
MAKE IT YOUR OWN.
Give it a good cleaning. I had originally thought of painting it but wanted something a little less messy. I read about using removable/peel-able contact paper or wallpaper and decided this was the way to go. I found some nice peel-able contact paper online like this cute bird motif.
I was already at a store when I saw a big, fat roll for only $5.95 (see blue contact paper below). I liked the color and the pattern was pretty yet neutral. When going for patterns, like florals, or the bird motif above, just keep in mind, the pattern has to line up with the next piece of contact paper you stick, so it could add a little extra work. This neutral, busy floral pattern below worked well. Tt was so busy, the difference from one piece of paper to the other was not noticeable.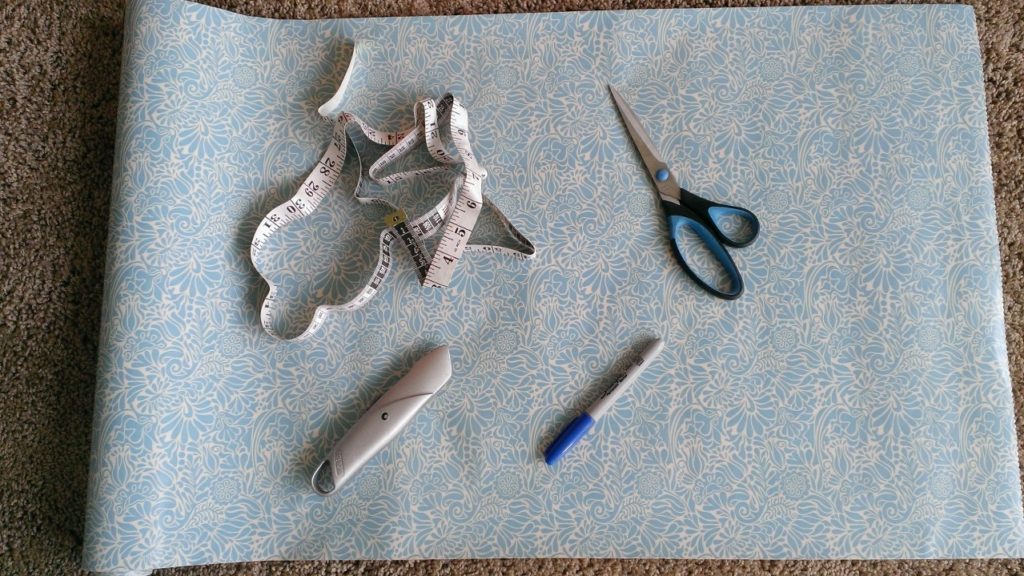 GATHER YOUR TOOLS:
1. Scissors
2. Tape measure or Ruler
3. Sharpie or pen
4. Box cutter or exacto knife
5. Store gift card, credit card or ruler
(to smooth out the paper and get rid of air bubbles)
6. Screwdriver to remove cabinet handles and hardware
7. Scotch tape (or any kind of tape)
I hardly used the box cutter except for tiny corners. An old gift card or credit card is useful to smooth out the paper and get rid of air bubbles. You can also use a ruler to peel and smooth at the same time. Scotch tape came in handy to hold the contact paper to the file cabinet while I cut the amount I needed. Finally, a screwdriver to remove the hardware from the drawers when you're covering them.
Contact paper is easy to work with because it's got the measurements and lines on the back so it makes it easy to cut straight lines.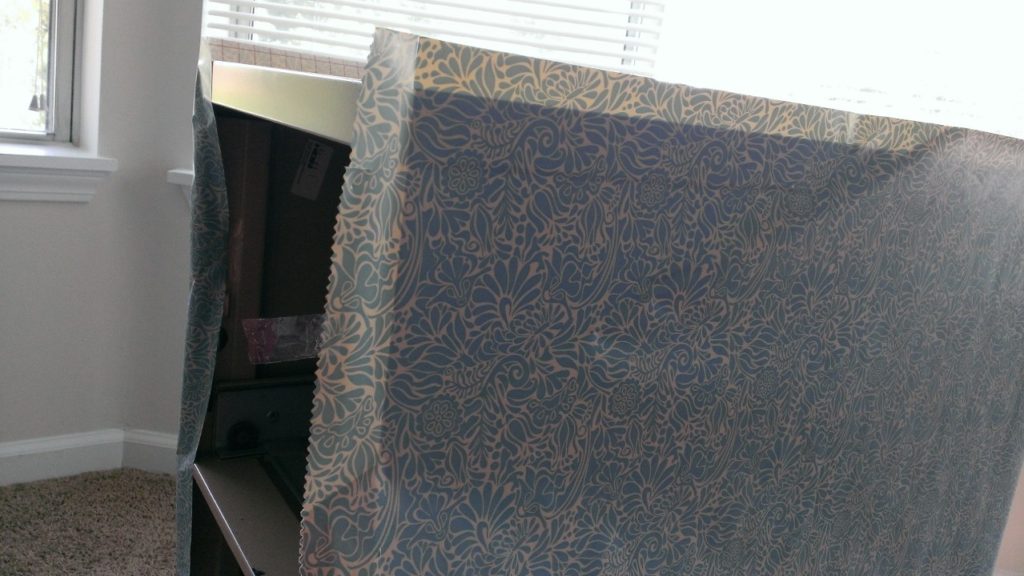 INSTRUCTIONS:
Wrap the contact paper around the file cabinet and leave an extra inch on all sides  – tuck over and underneath. You can see this in the picture below, there is about an inch of contact paper folded on to the top of the cabinet and on the sides. This ensures there are perfect seams when you place the next piece of contact paper on the top.
Use a scrap of contact paper to cover the middle divider of the file cabinet. (You can see the divider slat that separates the two drawers is not yet covered in the picture below).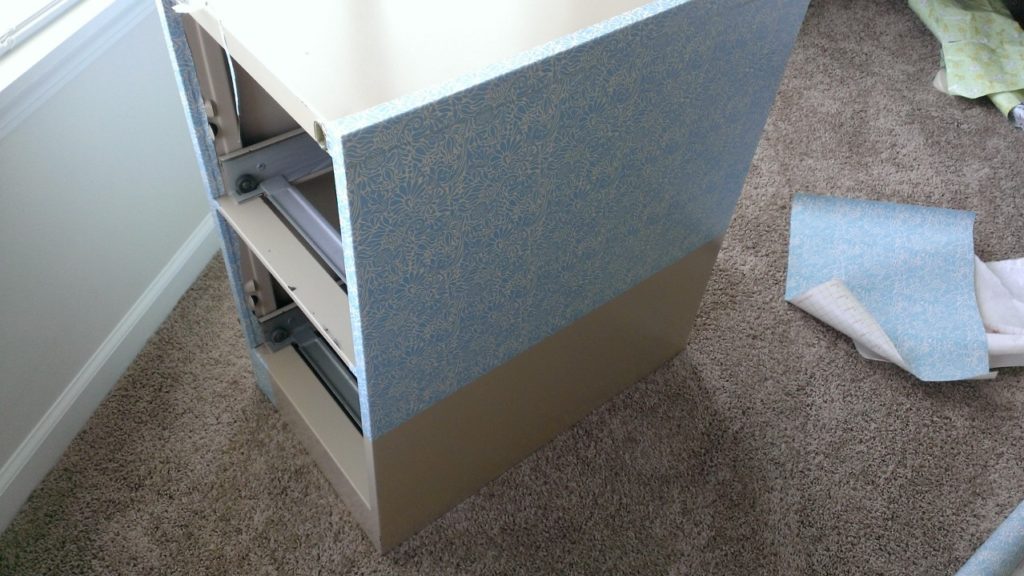 Then cover the back and the top of the file cabinet.
THE DRAWERS:
Once done with the body,  do the front of the drawers. No need to do the inside.
Remove all the hardware (handles and face plates if it comes with them). See the second picture below.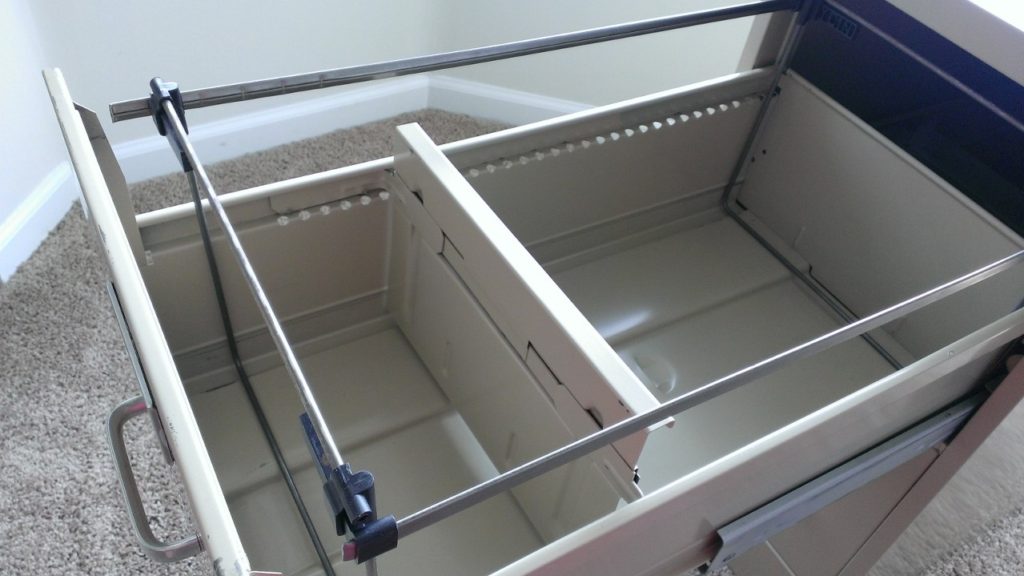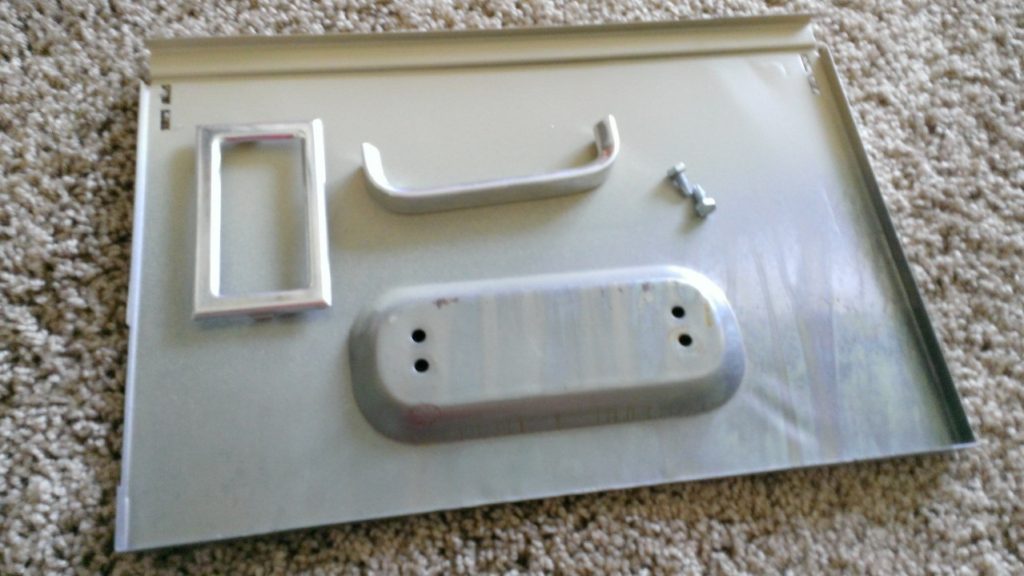 Then wrap the front of the drawers. You can see the screw holes easily through the paper to screw the hardware back on. If your paper is thick, mark the holes with a sharpie or pen.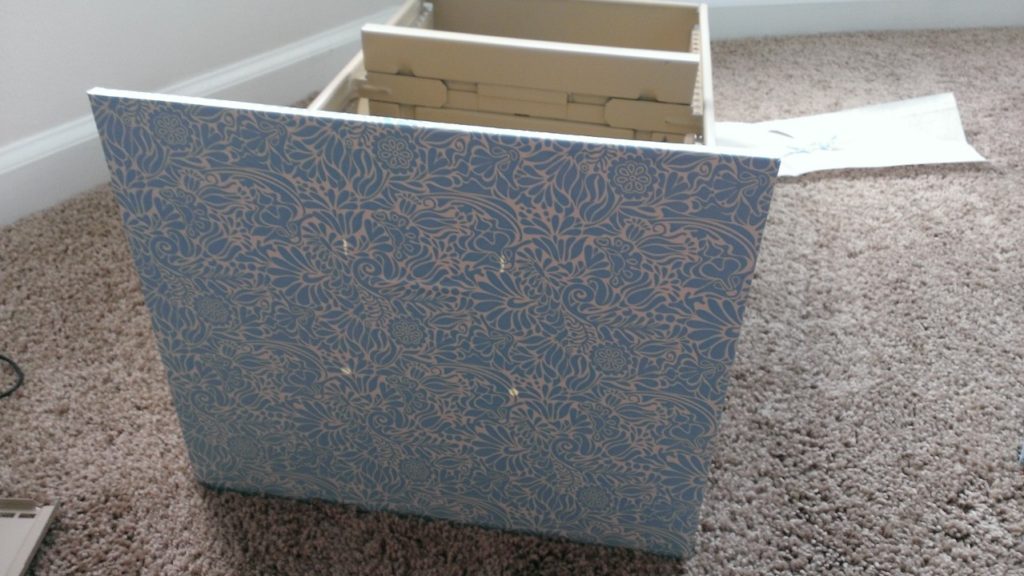 That's it! You did it!
This finished piece cost $12 total!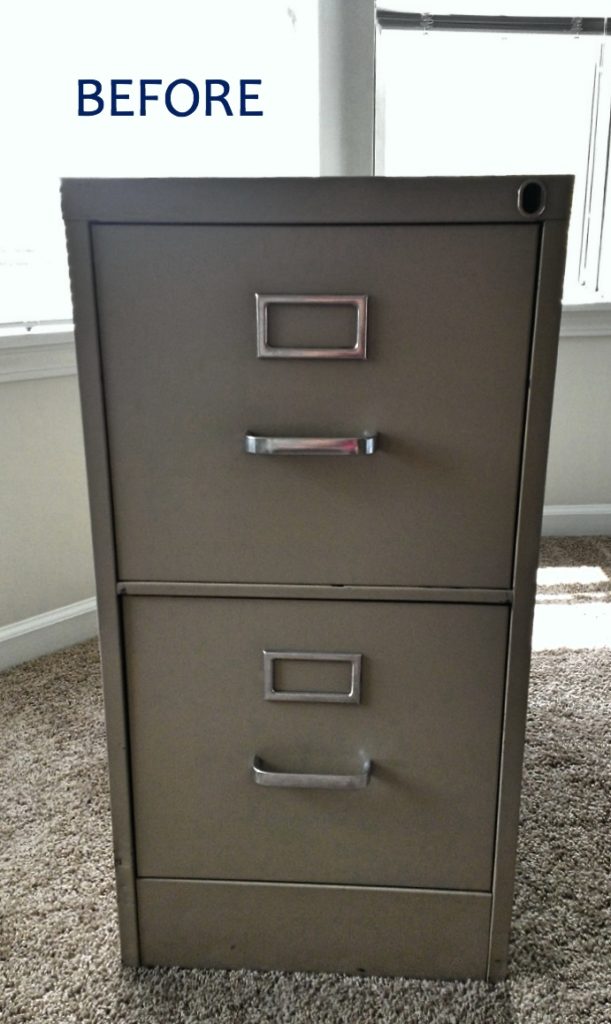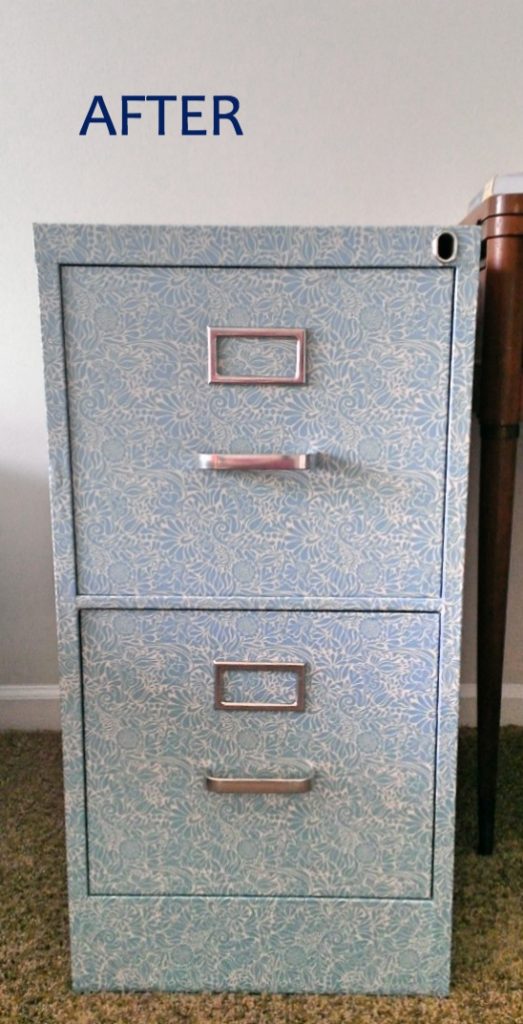 I hope you enjoyed this DIY project. Let me know what you think and if you try it too.